We design and build responsive websites so your content is presented in the best way possible for desktops, smartphones or tablets.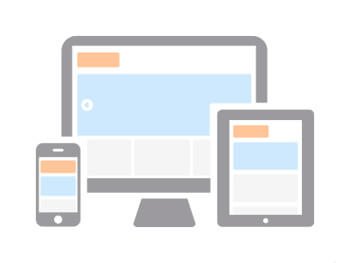 We build on any CMS platform (like WordPress, Joomla, Drupal), eCommerce stores or code your site from scratch (HTML5 / PHP / JQuery).
Our team uses "agile development" to make sure your projects are completed as fast as possible and letting you see the progress live. Our expertise in project management saves our team time, allowing us to offer fast turn-around and in doing so we save our clients money.
Every web design project is executed based on the following criteria:
Information architecture – What is the objective of the website and how will we present the information for the users? What is the main Call to Action or CTA?.
User oriented – We build sites that will be seen by real people. We want to make sure the users have a good experience with the site.
Search Engine friendly – We follow best practices to make sure your site is indexed by various search engines. In addition, we give you some guidance on what needs to be done in order to start attracting organic traffic.
OUR WEB DESIGN & DEVELOPMENT PROCESS
This is how we go about every web design and development project:
Discovery – We collect information from the client and learn about their individual goals and what they hope to accomplish in the short and long term.
Mock-up – We start drafting sketches and screenshots of how the site would look (the actual web design) before we build it (code it).
Development – We build the site on a private server for you to see the progress and provide real-time feedback. This ultimately saves time as our clients are able to communicate with us during the building process.
Launch – We push the site live on your server or our servers (we also offer free hosting which allows us to maintain your site if you require it).
DO YOU NEED A TEAM TO MAINTAIN YOUR WEBSITE?
We offer very affordable plans if you need a team that is always available to maintain or update your website.
We are located in South Florida and we have been servicing the following areas since 2011:
Miami, Aventura, Hollywood, Pembroke Pines, Fort Lauderdale, Pompano Beach, Boca Raton, Delray Beahch and Lake Worth.
DO YOU NEED TO ACQUIRE A DOMAIN NAME?
We have vast experience in domain acquisitions and sales. We can suggest the best domain name for your project and help you secure it. We can also help you buy a domain someone else already owns by providing you with our own appraisal tools and helping to determine the fairest value for a domain.
Remember a domain name can become your best asset if:
– It's short (two to three words)
– It's memorable (easy to remember, has no dashes)
– It's a Dot Com (preferably)
Web Design Services Reviews
Below you will find what our customers think about our services:
Thumbtack
YouTube
Yellow Pages
Yelp
Facebook